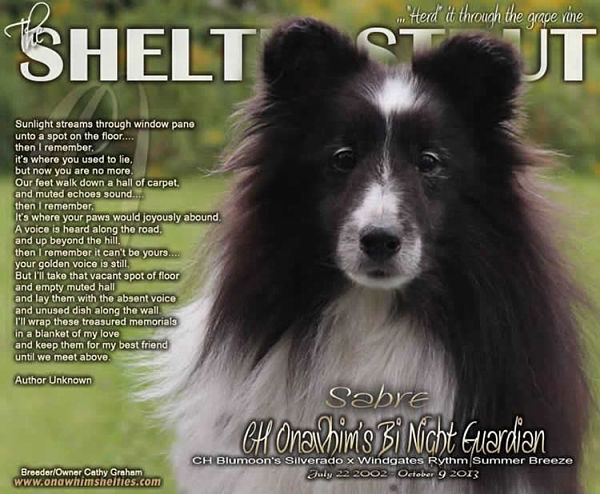 Dear Sabre…..
I will always keep you in my heart. You were the first puppy out of my very first litter. From the moment I held your little body in my hands I knew you were going to be the special one in my life. I loved watching you grow to a beautiful adult. I cried happy tears when you became my first champion.
The happy moments are so many.
I will miss saying " Sab,,,mommy needs a snuggle" and having you jump up and cuddle with me. I will miss you kissing my tears away. You did that a lot when dad passed away. 
I will miss your soft face, sweet expression and gorgeous eyes looking at me with love. I will miss your little two step dance every time you said hello or gave me hell for grooming you!! But a cookie always made you forget the grooming part. I will miss all the stories I just had to hear after work every day.
I will just miss you.
My heart dog. There will never be another quite like you. Our bond was strong and special. All those times I looked at you and knew we were best friends. All those times I kissed the white spot on your head and you looked at me like I was a nut. All those nights we cuddled and I whispered my thoughts to you.
I will always remember.
Your gentle soul. Your beautiful, happy eyes. Your silly way of letting me know you didn't want to share me with the others. All gone except for memories.
Thank you for these 11 years. I love you my little man.
God, please make sure he has someone to cuddle. He is the best cuddler ever.
Love mommy
10 years

Alex Smith Photography Ltd.